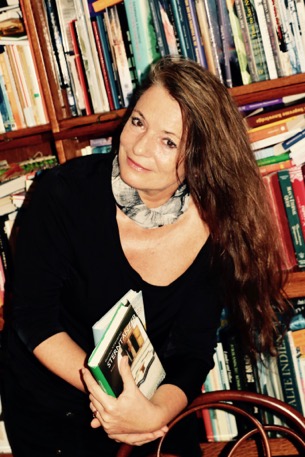 Dorothea Nürnberg
(Mag. phil.) was born 1964 in Graz, Austria. She studied German and French philology in Graz and the Sorbonne/Paris, and engaged for several years in arts management. She lives in Vienna.
Her works include poetry books (among others
BewusstSein im Werden
1996;
Penelope
1998;
heimgekehrt unter das kreuz des südens
2002;
Tanz
2002;
Onda
2004;
herzwortweben
2017,
sonnenwind
2018; novels and short stories, among others
Auf dem Weg nach Eden
2000,
Tochter der Sonne
2004,
Spiegelbilder
2006,
Sterntänzer
2012,
Unter Wasser
2015.
The Film Script
Waltz on the Raga
2011 for Wega Films Vienna.
Many contributions in literary magazines and anthologies
, among others
Plural, Revista Literária, Rio de Janeiro 2013, Taksim Solidarity, PEN CLUB editors 2014,
LOG International magazine for literature 2017, Poezibao, Paris; Vallejo&Comp. Quito 2017.
Literary contributions for art catalogues and art exhibitions
.
She is
member of board of PEN-Club Austria, Writers Association
, member of the Literary circle
PODIUM
and member of Austrian Writers Association
OESV
as well as honorary member of
International Film & Television Club
, New Delhi. For the past several years she has also been engaged in
art photography
and has held exhibitions in Paraguay, Brazil and Vienna.
Ecology
: since many years many contributions and activities for the preservation of the Amazon Rainforest in Brazil and the
protection of indigenous rights.
She has been editing indigenous poetry, Im Flug der Harpyie, Löcker Verlag 2015. Speaker at Sorbonne University Paris Nov/2017.
Her books are translated into
English
,
French
,
Portuguese
,
Spanish
,
Turkish
,
Arabic
,
Farsi
,
Russian
,
Hindi
and
Odia
.
Participation in Literature Festivals and International Book Launches
Book Launch Manaus/Brazil 2006
Book Launch Austrian Culture Forum/Austrian Embassy New Delhi und Goethe Institut Mumbai, India, 2007
London Book Fair, 2009
International Istanbul Poetry and Literature Festival, 2016
Festival Internacional de Poesía, Buenos Aires, 2017
World Book Fair, New Delhi 2018 on invitation of Austrian Culture Forum New Delhi